How do the flashing led bracelets make the concert show more exciting?
Flashing wristband is a special type wristband mainly used for concert, through the audience's waving arms to create a lively atmosphere, making the concert complete, andenhancing the interaction between celebrities and fans.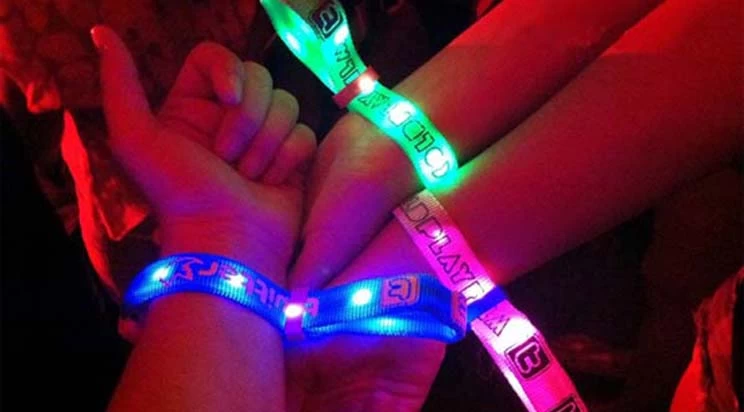 Traditional flashing bracelets is just used to heighten the stage atmosphere, but RFID led bracelet has a distinctive function.

RFID flashing wristband is with built-in RFID chip, this chip is unique and locatable. With the cloud system, the concert organizer can easily control each audience situation even at the background. Its main management functions include:

Site Management: Including the concert numbers' increasing, modifying, and deleting, the stage partition information-related settings, as well as the addition, deletion, modification and other functional modules.

Ticket management: provide ticket initialization function, as well as the process of ticket checking, including normal ticket checking module, Vip ticket checking module, anddiscount ticket checking module, but also including the refund related processing. The system uses real-time communication technology, the sold-out tickets information can betransitted immediately into the data center to check, the system will be automatically alarmed when invalid votes or fake tickets, which fundamentally eliminate the occurrenceof fake votes.

Data statistics query: a powerful data analysis system, provides users with a centralized management through the software management platform, which is a easily operated dataacquisition, analysis and management system.

The organizers have efficient management, also in the social benefits.

Social benefits:
(1) Improve audience satisfaction;
(2) Improve the audience experience;
(3) A breakthrough has been made in providing value-added services such as information collection and utilization.

Shenzhen Goldbridge has 12 years wristband production experience, the flashing wristbands manufactured are colorful, and can heighten the atmosphere.