Chipotle Mexican Grill announced the use of RFID to improve food safety and inventory
Lucy
RFID WORLD NET
2022-04-13 18:02:35
Recently, chipotle Mexican Grill, a world-renowned restaurant chain, announced that it will deploy RFID tags in stores around the world. Chipotle is currently one of the first major catering companies to leverage RFID tags to track ingredients from suppliers to restaurants through serialization, thereby improving food safety in their supply chains.
"RFID tags transform inventory management into automated digital capabilities, optimize restaurant operations, and enable our restaurant service centers to access inventory data in real time," said Scott Boatwright, the company's chief restaurant officer. "This integrated technology is improving the way our restaurant staff work while also benefiting our supply partners."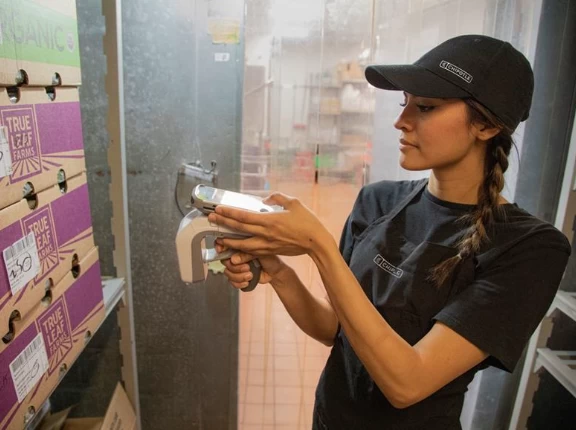 Chipotle has partnered with the world's leading companies in RFID technology, including RFID software provider Mojix, Avery Dennison, one of the RFID inlay R&D companies, and Zebra Technologies, a provider of RFID reader solutions.

Committed to the "Food with Integrity" standard, the company purchased more than 35 million pounds of locally grown products throughout 2021. Over the past two years, it has spent more than $400 million on food spending budgets to buy quality ingredients. The brand is currently further increasing the transparency of its ingredients' direct sources and is working closely with auburn University's RFID Lab to refine the pilot program, which is being tested on meat, dairy and avocados from five Chipotle suppliers. When the food ingredients supplied daily by the suppliers involved in the test arrive at the Chipotle restaurant, they must be posted on the outer packaging with RFID-enabled tags, and all of them must pass the RFID reader scan inspection. The store deployment traceability system is designed to enable companies to act quickly, efficiently and precisely on food safety and quality issues. At present, some suppliers have begun to implement the RFID technology required by Chipotle, which not only saves suppliers time in inventory management and inventory rotation, but also reduces irreparable errors caused by human error.
The restaurant chain invited the supply partners of the main ingredients to participate in the test and provided the partners with a complete RFID solution, which contains an introduction to the standards of RFID use and the advantages of post-use. At the same time, the brand also listens to feedback from employees and suppliers in its phased tests before deciding how to use RFID tags.

"We have been preparing for two years to complete the deployment of the RFID initiative and see this innovation as the next evolution in traceability and food safety," said Laurie Schalow, Chief Corporate Affairs and Food Safety Officer. "We are excited to work with our suppliers and restaurants to test this innovation on site to enhance our robust traceability program."

Chipotle claims that as of December 31, 2021, it has more than 2,950 restaurants in the United States, Canada, the United Kingdom, France and Germany, and is the only catering company of its size to own and operate all restaurants.

For more information regarding the RFID TAGS, Please visit us at www.goldbridgesz.com.